We're back with the WearTesters Weekender! As requested by our readers last week, we will be discussing our vision of an ideal basketball shoe. Be sure to read through, digest, and share your idea of the ideal basketball shoe! Remember, to each their own
---
---
WearTesters Weighs In
The Ideal Basketball Shoe
Chris (Nightwing2303): 
It's hard to make what I'd consider the 'perfect' hoop shoe… mostly because I feel there are shoes out there currently that fit the mold. At least fit that mold pretty closely.
The Nike KD 7, for me, is a great performer. I loved the way the front of the shoe was mesh for range of motion while the heel was Posite for structure and support. Much like the BrandBlack J Crossover 2, but the heel on those offered a little less structure, but enough support to keep me happy. Woven materials would be used for sure. While I love the Air Jordan XX9, I think the partial woven/ knitted upper featured on the Crossover 2 & KD 7 is a better setup.
So for the upper, I'd definitely have a woven midfoot to forefoot, and the heel I'd use a nice premium leather with some sort of heel counter for support – something along the lines of the Kobe 7's heel clip.
For the cushion… I'd probably go with full length Boost. Encapsulated for the most part, but exposed in the heel and forefoot so it can compress and deflect energy properly… the way it was meant to. My sh*tty Photoshop skills do not showcase the forefoot Boost… because it made my little image look worse than it already does. So just use your imagination to visualize the forefoot Boost.
Traction would have to be beast. I'd go with the CP3.VI pattern with the rubber compound of the Kobe 9… hell yeah! They'd be f*cking awesome.
And there you have it. A sexy low top sneaker that features a low profile feel, but maximum cushion for protection and deflection of energy. Only the best materials are used along the upper in the form of a woven front and a supportive leather back… additional support supplied by the modern-day exposed heel counter. Then you have the traction of a god… this sh*t would stop The Flash. Actually… they would have good enough traction for The Flash. So that's what I'll name them after…
Meet the WearTesters Speed Force Boost. Trademark that name pronto, adidas… I'm also available for hire if any of you brands would like some bad-ass hoop shoes in your lineup. You're welcome.
---
Noah (TheShoeRestorer):
My ideal basketball shoe would probably look pretty weird, but visually I would want something black and white, high contrast, like the Reebok basketball stuff from the early-mid 90s.
Outsole: the Brandblack blue outsoles are just mean, I'd have them because the traction is great.
Midsole: full length Boost or Micro G, something really cushioned and bouncy. Of course, I'd want a carbon fiber shank embedded in the midsole.
Upper: beautiful thick-cut tumbled leather, similar to that on the WoW 2. I love breaking in a leather shoe.
I don't want a one-piece inner bootie type setup and I'd like the shoe to be a mid or High top. The guts would be a padded material that can also give a bit of ventilation.
---
Jason (Shoelander23): 
This is a tough one because typically, there are trade offs for performance aspects that could create the perfect shoe (ex: durability vs. a shoe with no break in time.) with that said, these are some things I'd want in a perfect hoops shoe:
Upper: preferably a mesh/knit upper that provides limited break in time and breath ability. There needs to be a few layers stacked, or just a thick layer to provide durability and support.
Cushioning: while there are a lot of fantastic, soft cushions out there (Boost, Lunar, Micro G) I prefer a traditional set up like heel and forefoot zoom for responsiveness. Love the XX8 and even the Pegasus 31, as far as runners are concerned.
Traction: really doesn't matter how it looks (herringbone or storytelling) as long as the grooves are deep and widely distributed. I'm more of an outdoor hooper so a harder compound would be great.
---
John (SoleEngineer):
This is a tough call, given the freedom and power of choice. I think I would do a mash up of a lot of technologies and materials, old and new, as others have said. Let's break it down.
Midsole/ Outsole

– I'd definitely want the 'Feet You Wear' influenced, PureMotion set up for my midsole. However, within the PureMotion pods I would want podular Boost foam for some noticeable bounce back and responsiveness. This way, I could surround the boost in adiprene+ and cut flex grooves throughout the midsole for flexibility and transition. Finally, I would want my traction pattern to be the same as the CP3 VI( don't we all!) and with XDR rubber so I can actually play in these beauties outdoors.
Upper

– The upper is tough for me, but I'd have to go with leather. Some nice thick cut, full grain leather that will break in with a few wears and really mold to me foot. Since leather doesn't retain its shape and support as well as some synthetics, I would definitely like a Soldier 7 esque strap to keep me locked into the heel and on the footbed. Furthermore, I would really like my laces to be through nylon straps a la the Jordan X/ CP3 VIII AE. That way there is something more rigid for support and fit, while still being stronger and more substantial than flywire cords.
Details

– A few minor details that I'd definitely want to make the shoe all that it could be… Namely, the nice laces from the Brandback JCII, and the heel padding and tongue structure/padding of the Brandblack Phantom. They were so plush and comfortable I would never say no to that padding if I had a choice! Also a heel counter/support structure along the lines of the Kobe IX's would be ideal for supporting my full speed defensive exploits.
Re-reading what I want in my ideal shoe, damn these things would be expensive and complex to make, but I'd never take them out of my bag!
---
Bryan (brhinkle1): 
Ideal shoe? This is tough – there are too many companies with too many good technologies to just say, "That is IT!!!!" Especially with all the brands we test, most (not all) shoes do something well. I will try this and see how it sounds:
Start at the bottom – traction. Herringbone is the tried and true master, but which pattern? Old school adidas Pro Model? Works and is durable. Nike Kobe I? That pattern was unbelievable. What about a story, like Jordan XX8? The Rose 5 was glue, same with Curry 1 and J.Crossover I and II. I will go – Kobe I.
Cushioning – Boost or Unlocked Zoom or Jetlon or Micro G or adiprene+ or Max Air or … See? It's hard. I have an idea for this – I want adidas PureMotion pods with Boost in them. That would be my dream. Existing? I say – Micro G. It is the most refined, consistent tech for cushioning out now. Zoom is too small most times. Boost is still in the work-in-progress stage. Max Air is too unstable. My second choice is Unlocked Zoom like the XX8 but durable.
Fit – I like tight but not restrictive. Has to fit my foot perfect. XX9 was great but I could use more stability. I say – Kobe V or Brandblack Raptor low. I also really like the Rose 1.5, but if I have to pick – Brandblack Raptor.
Support – Ektio if I need it. Adidas Supernatural Creator if I don't.
Materials – leather with a mesh tongue. Think Melo M10 Year of the Horse, adidas Rose 3, and Under Armour Bloodline for recent shoes. Nothing breaks in like leather and it just feels nice. If I want to save a cow, I love ClutchFit and the woven of the XX9 and JC.2. The Rose 5 Brenda is another recent pair I love to play in.
So, here is the final Frankenstein make-up –
Kobe I traction
Puremotion pods with Boost inside/Micro G cushioning
Brandblack Raptor fit
Ektio support/stability – or sprintframe if I'm not hurt.
Leather upper – as long as it is real
Make it happen.
_____________________________________________________________________________________________________________________________________
In Case You Missed It…
Nike Kobe X (10) Elite Performance Review – by Nightwing2303
If you absolutely 'need' the 'latest thing' out then feel free to drop $225 as you'll still be getting a great performer. So if money isn't an issue, then go for it. 
https://weartesters.com/nike-kobe-x-10-elite-performance-review/
_____________________________________________________________________________________________________________________________________
Rising To The Top – Peak TP9.2 Performance Review – Duke4005
The TP9.2 is simply an evolution, but closer to the Lighting than last year's model. If you need solid cushioning, lockdown fit, durability, and traction, look no further. If you are looking for a swoosh, get the blinders off.
https://weartesters.com/rising-to-the-top-peak-tp9-2-review
_____________________________________________________________________________________________________________________________________
You'll Never Believe Which Brand Is Nike's Biggest Threat -by Noah Goldowitz
According to Wunderlich, "the Skechers brand remains in high demand across all geographies and demographics"
https://weartesters.com/youll-never-believe-which-brand-is-nikes-biggest-threat/
_____________________________________________________________________________________________________________________________________
The BrandBlack Force Vector Will Come in Premium Leather – by Nightwing2303
One will feature a molded mesh upper and the other will feature premium natural leathers. What is premium natural leather? Some really good sh*t, that's what.
https://weartesters.com/the-brandblack-force-vector-will-come-in-premium-leather/
_____________________________________________________________________________________________________________________________________
WearTesters Wordplay of the Week
I'm cool I don't foretell best
I ain't nicest MC, I ain't Cornel West
I am Cornel Westside, Chi-town Guevara
Malcolm eXorcise the demons
Gangster leaning
He traded in his kufi for a new era
Chose a 44 over a mortarboard
I ain't a credited institute graduate
I ain't from Nazareth
My conception wasn't immaculate
I ain't master no calculus
A good addition to the rap audience
– Lupe Fiasco, 'Just Might be OK'
(Easily my favorite bars from the track, Lupe humbly explains his qualifications, his religious journey, and his place in the rap game)
Lupe Fiasco released the critically acclaimed album, Food & Liquor on September 19th, 2006. Almost 9 years later, he has released a music video for 'Just Might Be Ok'. It is very well produced, unique, and brings Lupe fans back to the sound and the emotions associated with his early work. Furthermore, relistening to the track with the visuals reminded me how relevant his words are, even now. The social commentary had context upon release and probably always will given the continual struggle for social equality, economic prosperity, and justice. As a contemporary addition to the song, Lupe added footage of the Baltimore protests to leave his audience with a controversial, albeit thought provoking, visual.
As an added bonus for those interested in sneakers (all of us, right?), there are a few key sneaker cameos in the music video: Curry One Candy Reign's, Nike Air Raids, Air Force Ones, etc.
_____________________________________________________________________________________________________________________________________
Mayweather vs. Pacqiuao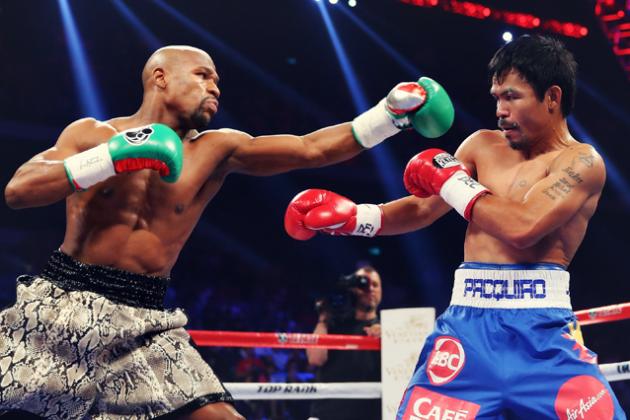 Comment below: Who are you pulling for?
_____________________________________________________________________________________________________________________________________
That's it for Issue 18 of the WearTesters Weekender. As always, thank you for your continued support and participation in the discussion. We're looking forward to hearing your thoughts in the comments!