PEAK TP5 Performance Review
As Tony Parker's NBA career winds down, PEAK has been on a roll with his signature line — the TP IV was one of our most surprising on-court models of last year. Can the PEAK TP5 live up the extremely high bar set by its predecessor or does PEAK tread water with its newest silhouette?
Let's find out with our performance review of the PEAK TP5.
Traction: The outsole is composed of a dual rubber setup that uses both solid and translucent rubber compounds. It would have been more consistent had PEAK just stuck with an entirely solid rubber outsole.
Despite its inconsistencies, the experience was top-notch with coverage in multiple directions. However, you can clearly tell that the solid rubber portions of the outsole far outperform the areas that use translucent rubber. The good news is that there is a solid rubber pivot point in the forefoot which provides a sweet spot for amazing traction.
Every now and then I did need to wipe the outsole to free it of dust that it attracted but overall, this is one of those setups that you're going to want to have in your bag at all times in case you have to play on a floor that isn't well maintained.
Cushion: Once again, PEAK brought back its Gradient Dual foam technology in the forefoot which provides a low profile and slightly responsive ride.
If you're looking for something that's plush, bouncy, and explosive, you're not going to get that here. Even though the energy return with Gradient Dual is lackluster when compared to something like Zoom, it does gives you the protection your legs and knees need to prevent them from hurting at the end of the night.
Tony Parker was never a high flyer and he definitely isn't one at this point of his career, so impact protection is way down on the priority list here. However, if you want something fast, the TP5 will water your well.
Materials: PEAK used a modified version of its PEAK Surface technology on the TP5 and it's definitely an upgrade from what the brand used last year. 
Instead of a plastic overlay across the entire upper, PEAK moved those materials to the back heel area for more structure and support. The forefoot is apparently using a "synthetic mesh" but it really feels more like a very tightly woven twill material.
Overall, the upper is flexible, comfortable, and durable enough to last both indoors and out, and there is a fuse overlay in the lateral forefoot just in case. Your foot will be covered by a neoprene underlay inside of the shoe which is very well padded and comfortable, but it eliminates any ventilation the TP5 would have had.
Fit: I went up half a size to an 11 last year on the TP IVs, so I did the same thing with the TP5 and I have to say that was the right choice.
Even though there's a little dead space in the forefoot near the toebox area, the lockdown from the dynamic ribbon weaving lacing system was so good that any dead space these had became a non-issue. The midfoot and heel both provide a snug fit that I doubt would be very comfortable had I gone with my true size. I recommend going up half a size just to make sure these areas don't suffocate your foot.
Support: This is where PEAK made the most changes on the V from the IV, and the most noticeable addition has to be the TPU overlay that sits in between the midfoot and heel.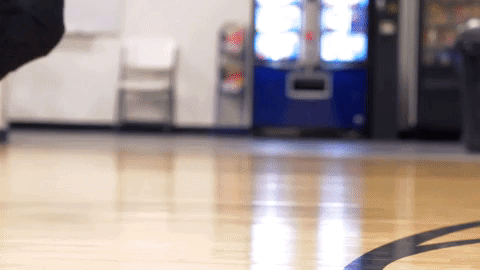 This is called the P-BOOM catapult module and its supposed to enhance foot stability. Upon first look it seemed like it would end up digging into my foot just like the TPU overlay did on the LeBron 13 Elite. Well, after rigorous testing, I'm happy to report that this isn't an issue whatsoever.
I took some pretty hard cuts in the TP5 and the P-Boom blade never cut into my foot, ever. On the medial side there is a less sturdy version of the P-Boom that connects to the midsole, which is made out of EVA foam, so I didn't have any issues there.
Both of these features do an excellent job at keeping your foot on the footbed, although I do wish the lateral forefoot had a more prominent outrigger. The way the TP5 is constructed your foot is going to favor the lateral side and it just felt just a little unstable in this area when comparing it to the midfoot and heel.
Overall: Once again PEAK knocked it out of the park with the latest addition to Tony Parker's signature line. If you're looking for a fast shoe that sits low to the ground and has amazing traction (seriously, these have a ton of bite), pick these up because you will not be disappointed (just make sure you go up half a size, especially if you're a wide-footer).
For a retail price of about $90 these are easily the best performing on-court model at that price point. Just don't go into the TP5 expecting a ton of impact protection and energy return. For only $90 these are definitely worth a shot.